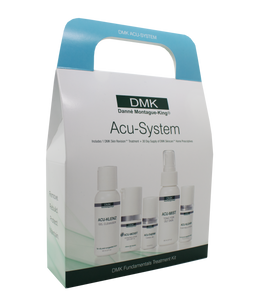 Acu Sytem Kit
Regular price

You can visit European Beauty Salon in Toronto at 112 Cumberland Street # 202 to buy this product
The DMK Acne Kit assists in balancing oil production and killing bacteria. These products penetrate the pores to kill existing p. acnes bacteria while preventing further breakouts. Use the enclosed ACU System to help you combat acne at home.
This Fundamental Kit includes:
1 DMK Skin Revision™ treatment which provides the world-renowned Plasmatic Effect®, plus a 30-day supply of DMK Skincare™ home prescriptives.