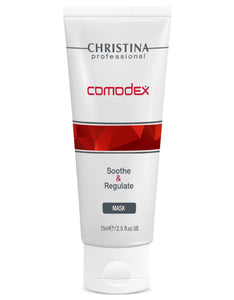 Comodex Soothe & Regulate Mask 75 ML
Balances sebum secretion and excretion. Anti bacterial. Prevents recurrence of comedowns, soothes irritation and redness.
Selected actives:
BSASM - anti inflammatory, anti bacterial, antioxidative
Seboreductyl Tasman pepper extract – immediate soothing action, comforts and calms the skin. Antioxidant and anti inflammatory properties
Kaolin, zinc oxide, titanium dioxide, green tea extract, Asiatic centella, chamomile flowers, sulfur, camphor, allantoin, biotin, mushroom extract, niacinamide, panthenol, pyridoxine, citric acid, salicylic acid, allantoin.

Apply a uniform layer, avoiding eye area. Leave on for about 10 minutes and remove with wet cloth.