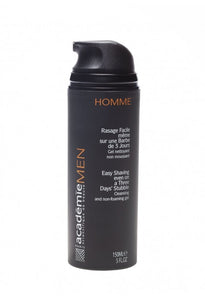 Easy Shaving even on a Three Days' Stubble 150 ml
CLEANSE - SHAVE

Helps the razor glide smoothly for a precise and close shave. Allows to bypass imperfections. Limits the painful feeling of tightness, even on a three days' stubble. Cleansing gel ideal to thoroughly cleanse the face.

The skin, cleansed and closely shaved does not feel tight, it is soft and soothed.

DIRECTIONS FOR USE
First, moisten the face with lukewarm water to prepare the skin and hair. Apply the gel, use massaging movements. Shave or cleanse. Rinse with lukewarm water.