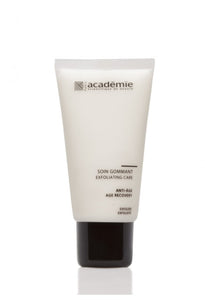 Age Recovery Premium

Soft and light cream scrub. Eliminates impurities and dead cells thanks to double enzymatic and mechanical exfoliating action. Stimulates cell renewal and helps reduce deep lines.
The skin is refined, soft and radiant with youth.
Once or twice a week, apply in a thin layer to purified face and neck. Leave on for 5 minutes. Rub off in circular movements with the fingertips while holding the skin. Rinse with damp cotton pads and complete with toner adapted to skin type. Dry the epidermis gently.