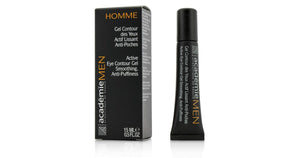 Eye Contour Gel Smoothing, Anti-Puffiness 15 ml
​SPECIFIC TREATMENT
Helps to smoothe and reduce puffiness and dark circles. Formulated from unique blend of oak & birch natural extracts. tonifying, moisturizing calming & anti-oxydizing properties. Eliminates appearance of fine lines & wrinkles .Yeast extracts & acid complex enhance blood capillary network. Reduces puffiness & dark circles. Leaves eye zone velvety smooth & radiant.
Morning and/or evening, on a cleansed skin, put small dashes of gel on the eye contours and make it penetrate with light tappings from the inner corner of the eye towards the outer corner.