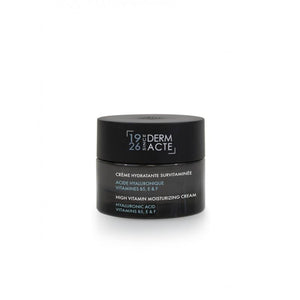 HIGH VITAMIN MOISTURIZING CREAM 50 ml
Inspired by Mesotherapy (Microneedling)
High vitamin moisturizing cream corrects the signs of fatigue and plump up the skin leaving it hydrated all day long. It is smoother and fuller; the complexion is more radiant.
Based on facial mesotherapy treatments in aesthetic medicine procedures (micro-injections of highly concentrated actives), this unique ultramelting cream is composed of a hyaluronic acid trio and vitamins (B5, E and F) that Also ideal as postmesotherapy or mesolift treatments.
An unique ultra-melting texture that is perfectly obsorbed by the skin for a better penetration of the cosmetic actives.