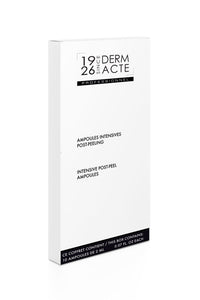 INTENSIVE AMPULA "COMPLETE RECOVERY 10 x 2 ml
Recovery complex:

The combination of yeast extract, beta-glucan derivatives and low molecular weight hyaluronic acid.

Yeast extract restores the protective function of the skin and reduces sensitivity. Stimulates the restoration of damaged skin. Increases the number of Langerhans cells responsible for the protective functions of the skin.

Post peeling:

Regenerating and restoring effect

Stimulates cell renewal

Intensely moisturizes

Reduces transepidermal water loss