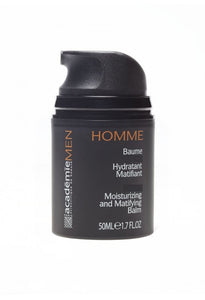 Moisturizing and Matifying Balm 50 ml
Academie Moisturizing and Matifying Balm for men is a moisturizing and mattifying balm with a special anti-pollution active complex that can protect the skin from harmful external environmental influences. It also has soothing properties thanks to the oak and birch extract.
With moisturizing, anti-shine and soothing ingredients.
Formulated with cocktail of oak and birch natural extracts. 
Provides tonifying, moisturizing, calming and anti-oxydizing propertie. 
Holds moisture into skin tissues to keep hydration