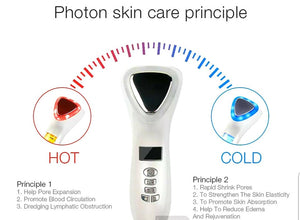 Ultrasonic-Photon Skin Care
Great to use it with skin care products - serums, ampoules for deeper penetration . Massage-Cold and Hot mode ,vibration, ultrasonic .
HOT therapy -its promotes blood circulation,promotes cells vitality, lymphatic drainage.Great to expand pores.
COLD therapy-it strengthen skin elasticity, promotes skin absorption ,rejuvenates,shrink pores, calming .