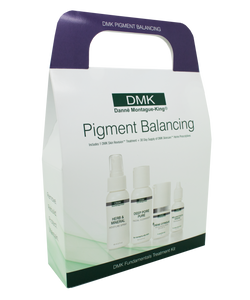 Pigment Balancing Kit
Regular price

You can visit European Beauty Salon in Toronto at 112 Cumberland Street # 202 to buy this product
The Pigment Balancing Kit addresses passive and inflammatory pigmentation with this selection of innovative products. These products, if used in conjunction, rapidly reduce inflammation and suppress melanin production over time. The Pigment Balancing Kit contains melanin in 3 levels;


Stops melanin formation
Inhibits tyrosine & tyrosinase
Regulates melanogenesis at the keratinocytes

This Fundamentals Kit includes:

1 DMK Skin Revision™ treatment which provides the world-renowned Plasmatic Effect®, plus a 30-day supply of DMK Skincare™ home prescriptives.