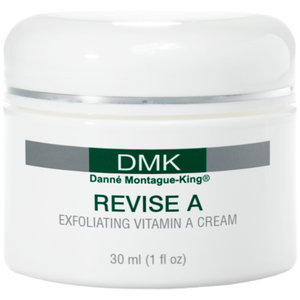 Revise-A 30 ml
Regular price

You can visit European Beauty Salon in Toronto at 112 Cumberland Street # 202 to buy this product
A powerful vitamin A formulation, it works to promote and regulate the growth of normal and healthy cells and to strengthen, smooth and moisturise the skin. Revise-A is recommended for ageing, sun damaged or congested acne-prone skin as it assist to prevent the pores of the skin being clogged and infected with bacteria.
Designed for skin on a maintenance program. This light exfoliating product aims to maintain cellular renewal and encourage a healthy, youthful complexion. The key function of Revise-A is to strengthen skin tissues through the regulation of cell proliferation.
Apply directly after cleansing, either  on alternative nights depending on the skin condition. Consult DMK skin care technician. During the day DMK Soleil Protect SPF15 must be used to protect the skin.