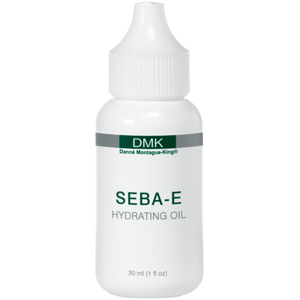 Seba-E Oil ( 30 ml )
Regular price

You can visit European Beauty Salon in Toronto at 112 Cumberland Street # 202 to buy this product
To help reduce dryness and plump the skin.
 This helps to prevent transepidermal water loss which can cause roughness, flakiness, red reactive skin, fine lines, wrinkles and a loss of bounce and elasticity in the skin.  Described as velvet radiance in a bottle, Seba-E is a fractionated blend of herbal oils and Vitamin E sealing in moisture helping combat dryness, lipid dry skin, dehydration and skin suffering from transepidermal water loss. (TWEL) When used with Herb & Mineral Mist, Seba-E will re-establish the protective acid mantle and promote barrier repair by replicating the natural way skin secretes oil.
After cleansing and using DMK serums, apply 2-4 drops of Seba-E oil with Herb & Mineral Mist and gently work into the skin, up under the eyes and along the neck area.