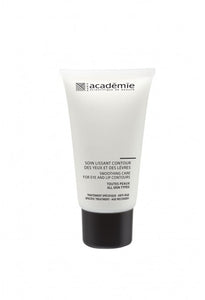 Smoothing Care for Eye & Lip Contour 40 ml
​Prevents, smooths deep and fine lines of the eye and lip contours. 
An extraordinary mask for the delicate skin around eyes and lips. Formulated of active ingredients to re-condition skin. Helps eliminate puffiness. dark circles. contour wrinkles and fine lines. Provides exceptional freshness and comfort to skin. Leaves skin brighter. firmer. smoother and younger. 
Can be used as cream or mask. Apply in a thin layer around the eyes and lip contour. For a "mask effect" let it on for 5 to 10 min, massage in, then remove with a cotton wad and a toner.