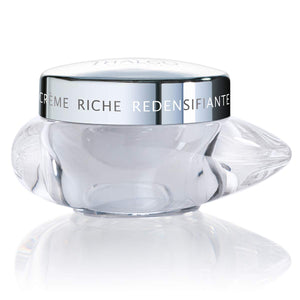 THALGO Exception Marine Redensifying Rich Cream 50 ml
Thalgo Redensifying Rich Cream effectively treats all the visible signs of aging while helping dry and very dry skin regain suppleness and comfort. Restores skin firmness and leaves it tight ,leaves the skin velvety smooth to the touch. 
Notice a visibly lifted, sleek silhouette with this  tightening cream. Brings radiance to the skin .
Visibly correcting action on sagging, correcting action from loss of skin density, wrinkles and radiance and softer skin.

Apply morning and evening to the face and neck  , after applying Thalgo Intensive Redensifying Serum and Thalgo Eyelid Lifting Cream.