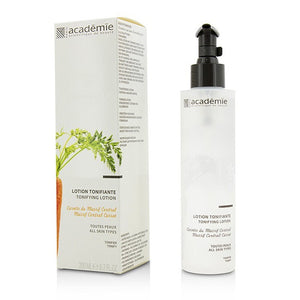 TONIFY  
Tonifies, refreshes and soothes.
This alcohol-free lotion with Spruce Essential Oil and Carrot Extract completes make-up removal. It eliminates impurities and any remaining residues on the skin.
Completes make-up removal. For all skin types. Alcohol free.
Plant ingredients complex : French spruce essential oil and Massif Central carrot extract complex.
BEAUTY RESULT
The skin is refreshed, tonified and soothed.
DIRECTIONS FOR USE
Moisten a cotton pad with the lotion and apply to the face and neck.
Remove the safety clip. Press the button and twist to left or right to unlock the pump.