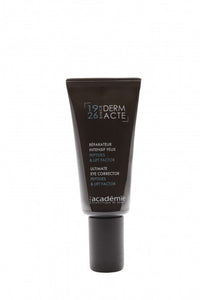 Ultimate Eye Contour Corrector 15 ml
Anti-aging eye cream is an integrated eye treatment that results in lifting around the eye and eyebrow area while leaving a smooth and firm look.
Thanks to its rich ingredients it erases the dark circles and corrects the signs of aging while smoothing wrinkles and fine lines around the eyes. It is also ideal for eyelashes, since it helps to increase the density and length by making the look look relaxed and youthful.
 Finish eyes closed by placing your index finger under the lash line & lift towards the upper eyelid for an "eyelash curler" effect.