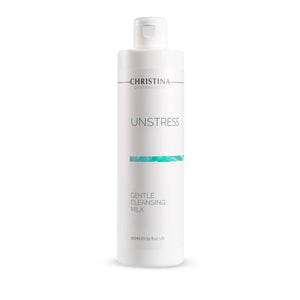 UNSTRESS GENTLE CLEANSING MILK 200 ML
Delicately Removes Impurities And Excess Oils While Improving Skin Moisture. 
The soap-free Gentle Cleansing Milk is enriched with botanical extracts to reduce dryness and balance skin's natural moisture levels to complete the cleansing process. Gently remove impurities and excess oil with this delicate, soap free cleansing milk.
Enriched with botanical extracts, it reduces dryness and maintains your skin's natural moisture balance, for a clean and soothed complexion.
BENEFITS
Cleanses and refreshes, improves absorption of cosmetic products.
Removes makeup residue, dirt and other pollutants.
Leaves the skin feeling smooth & calm