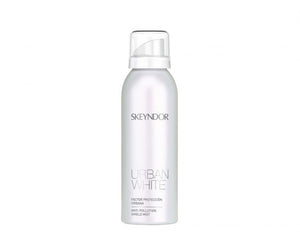 Urban White Anti-Pollution Shield Mist 100 ml
A refreshing spa water mist from southern France which restores the skin's balance and natural wellbeing. Enriched with an exopolysaccharide from the French Polynesian islands, it is capable of reducing the aesthetic effects of urban pollution (fumes, hydrocarbons, tobacco, sun) that lead to premature darkening of the skin.
Active Ingredients: Urban pollution protector, stabilized vitamin C, Thermal water
Spray over the face and neck  Leave on for a few moments Dry off with a tissue, without rubbing the skin.