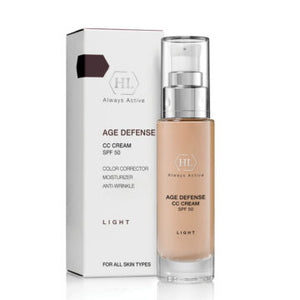 AGE DEFENSE CC CREAM LIGHT 50 ml
Age defense cream is a multi-tasking, rich treatment cream that provides exceptionally high protection, SPF 50 and maximum moisture throughout the day. The cream improves the skin's appearance instantly offering a natural cover-up effect, while slowing the aging process and diminishing depth of wrinkles.
Natural looking color corrective coverage helps conceal skin flaws
Advanced antioxidant protection
Diminishes the appearance of fine lines and wrinkles depth
Increases moisture content and optimizes moisture retention
Bestows a radiant, smooth, flawless skin
Active Ingredients: UVA and UVB sunscreens, vitamin E, functional anti-wrinkle complexes, Ginkgo Biloba and Green Tea extracts.