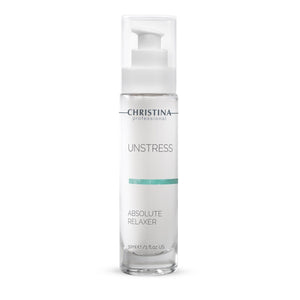 Christina ABSOLUTE RELAXER SERUM 30 ML.
Fortifies The Natural Cellular Structure To Return Resilience and Elasticity To Stressed Skin.
Peptides and HA reduce depth of wrinkles. This innovative formula triggers the production of structural lipids throughout the skin with its rich blend of Hyaluronic acid which replenishes the skin's natural hydration mechanisms. DNA- protecting peptides and powerful antioxidants prevent trans epidermal water loss (TEWL) and strengthen cellular immunity, restoring suppleness while rejuvenating and firming facial contours
BENEFITS
Boosts collagen and elastin formation.
Blurs wrinkles and fine lines.
Provides prolonged hydration.
Leaves the skin elastic and comfortable.