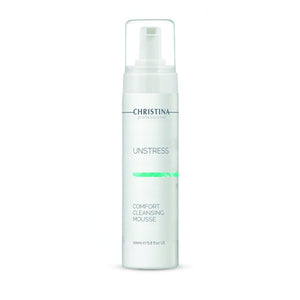 COMFORT CLEANSING MOUSSE 300 ML.
Gently Removes Stress Inducing Impurities Leaving A Radiant, Healthy And Youthful Complexion.
Gentle soapless mousse enriched with B5 and botanical extracts. 
The Comfort Cleansing Mousse cleans and soothes while maintaining essential moisture. The soap-free non-irritating Mousse gently removes stress inducing impurities leaving a radiant, healthy and youthful complexion.
Removes dirt, makeup residue and pollutants.
Anti-inflammatory, purifies and calms irritated skin without drying it.
Maintains natural moisture levels.