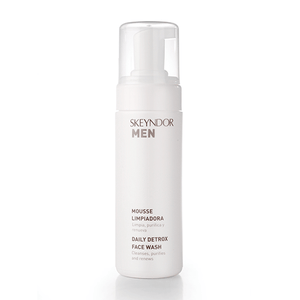 Daily Detox Face Wash 150 ml
​A detoxing face-wash for men that provides a skin-deep cleanse to balance the skin. 
Triple action purifying mousse that provides in depth skin cleansing and restore its external balance,by accelerating cell renewal. Made with Glycolic acid and combination of cleansing agents.
Thanks to its extra soft formula, it can be used every day without irritation or harm. Enriched with Active Ingredients, such as Thermal Spring Water, Vitamin C & Organic Silicum. Ideal for removing excess oil and impurities, improving the skins overall appearance.
150 ml