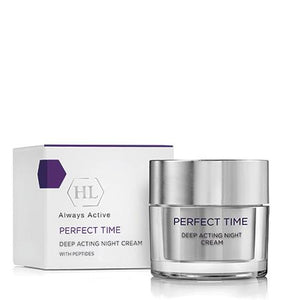 Perfect Time Deep Acting Night Cream 50 ml.
​Rich night cream helps firm, minimizes the appearance of fine lines and grants a lifting effect. Enriched with innovative lipopeptides, essential amino acids, plant extracts and Hyaluronic Acid booster. The cream improves the skin's elasticity and firmness, enhances collagen synthesis and contributes to a significant reduction in wrinkles' depth, slowing down the aging process and revitalizing the skin.

Lipopeptides, Soybean extract, Wild Yam extract, Ginkgo Biloba extract and Hyaluronic Acid
50 ml.