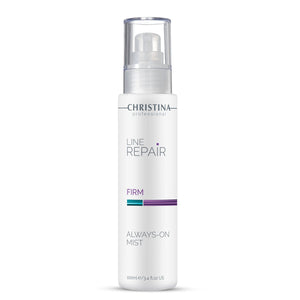 FIRM ALWAYS-ON MIST 100 ML
FIRM ALWAYS-ON MIST
100 ML
Active moisture spray to ease up on irritations and redness.
Rich in natural moisturizers and flavonoids from the red clover plant with hormone-like activity, restore skin tonus and volume. Contains botanical extracts with cooling effect to soothe irritation, reduce redness, replenish and refresh.
SELECTED ACTIVES
Red clover extract

 

– active from red clover extract especially designed to fight hormonal ageing. Rich in isoflavones with hormone-like activity, fights hormonal ageing and restores tonus and volume.
Aquaderm

 

- based on natural moisturizing factor (NMF), improves moisture levels and promotes a smooth appearance.
Blue daisy (Globularia Alypum) extract

 

- reduces discomfort, irritation and reactive skin sensations. With an exceptional composition of glycosides, blue daisy active reduces inflammation.
Soothing plant blend

 

- synergistic complex of euphrasia, balm mint and magnolia plant extract with anti-redness and anti-irritant properties, prevents UV-induced stress.
DIRECTIONS FOR USE
Spray from 20 cm. away on cleansed face, neck and décolleté. Keep eyes and mouth closed. Pat in with finger tips until absorbed. Do not rinse off!