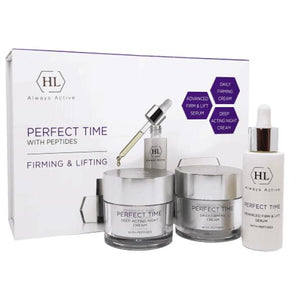 Firming & Lifting Kit
Regular price

You can visit European Beauty Salon in Toronto at 112 Cumberland Street # 202 to buy this product
Firm & Lift Serum    30 ml , Daily Firming Cream 50 ml, Deep Acting Night Cream 50 ml
Perfect time line - for mature skin, with wrinkles, sagginess and lack of firmness.
A highly effective premium series, based on functional innovative lipopeptides, essential amino acids and potent extracts that operate to grant a younger looking complexion. The products of the series minimize the appearance of lines and wrinkles, smoothen, firm and strengthen the contour lines of the face, neck and décolleté and grant a tighter, younger look.
Nourishing kit for complimentary treatment at home.