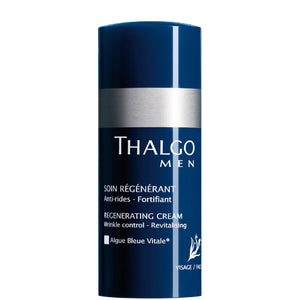 Thalgo men REGENERATING CREAM 50 ml
This high-performance formula works to reinforce and re-firm the skin in order to preserve its youthful appearance over time.

Used daily, this non oily, anti-ageing lotion strengthens your skin and makes it denser from within.
It contains a special algue bleue vitale algae extract that promotes anti-ageing as it stimulates cell renewal. Regenerating Cream also helps to calm your stressed skin by preventing fatigue in the skin cells.
This high performance treatment reinforces the action of algue bleue vitale further with extra anti-wrinkle active ingredients.