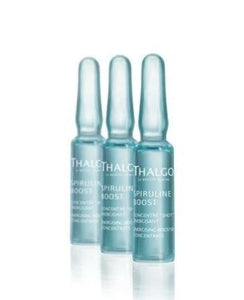 Thalgo ENERGISING BOOSTER CONCENTRATE 7 x 1.2ml
A 7 day "booster" treatment with energising Spirulina boosted with Marine Magnesium, Hyaluronic Acid and Vitamin C, for express skin revitalisation. Immediately the skin is as if plumped up, features are smoothed. After 7 days, the skin is visibly toned and regains its energy.
For occasional use, apply a vial all over your face and neck before skincare. As a 7-day treatment course, apply a half-dose (1 vial = 2 applications) morning and evening. Close the vial after use using the resealable upper section.