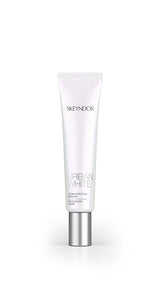 Urban White Spot Eraser Cream 15 ml
 Lightening  cream indicated for all skin types.    
Suitable for: normal, dry, oily & combination skin types

A TARGETED TREATMENT TO HELP QUICKLY LIGHTEN DARK SPOTS AND PIGMENTATION MARKS. DEPIGMENTING AGENTS WORK FAST TO LIGHTEN AND BRIGHTEN. APPLY TO PIGMENTED AREAS ONLY.

A specific and specialised formula made with wide-spectrum lightening and depigmenting agents, to target, brighten and lighten the appearance of pigmentatimarks and spots and even out skin tone.

After cleansing, apply the product specifically to the pigmented areas.